TTE5XX 3.0 TFSI UPGRADE TURBOCHARGER
£3,369.38
€3,893.99
$4,277.76
inc. VAT
UK VAT (20%) is removed at checkout for all EU & Rest of World countries. Simply select destination country from the shipping section and the total will recalculate to remove the 20% UK VAT.
Delivery Information
Description
TTE5XX 3.0 TFSI UPGRADE TURBOCHARGER
Introducing our TTE5XX Turbocharger for the 3.0 TFSI for the ultimate blend of power, super fast-response, and Plug&play ease of fitment. Our first upgrade step utilizing the original turbocharger for greater flow and power. TTE5XX Performance turbocharger can makeover 500PS with near original turbocharger response.
TTE5xx Performance turbocharger is designed for 500+ PS. Upgrade intercooler, downpipe, sports cat and full exhaust are recommended, upgrade to the turbo intake and system is also recommended for max performance.
Precisely balancing our turbochargers is a key critical factor to become a TTE upgrade unit as longevity and performance are paramount. Good balance improves acoustics also. Subsequent great care is taken with all TTE turbochargers to achieving our balance standards. Firstly parts are balanced at slow speeds up to 2800RPM in multiple planes using our single parts machine, then components are assembled and then the CHRA are dynamically balanced, but this time depending on application at up to 250,000 RPM in multiple planes using our in house VSR machine to acquire the ultimate equilibrium, to a standard far higher than OEM. Each turbocharger is supplied with a serial numbered balance test result document.
Product Highlights:
Original BWTS turbocharger

TTE Billet Milled compressor 7+7 BLADE

TTE 9 Blade High-Flow Low Mass Turbine

Plug and Play installation

7pad thrust bearing

500+PS Proven

Proven TheTurboEngineers quality

Single parts finely balanced then components assembled and core high-speed VSR balanced

Supplied with a balance test result document

Made in Germany
Rogier's AUDI S4 B9

Stock power was 350HP 540NM approx. (red)
Now power is at 490HP 690NM approx with the same response as Stock. (blue)

Only mods: Milltek downpipe with sport cat (200cell), APR intercooler, VWR Intake, JDEngineering custom ECU software capped at only 1.5BAR because of gearbox software stock, 98ron pump fuel.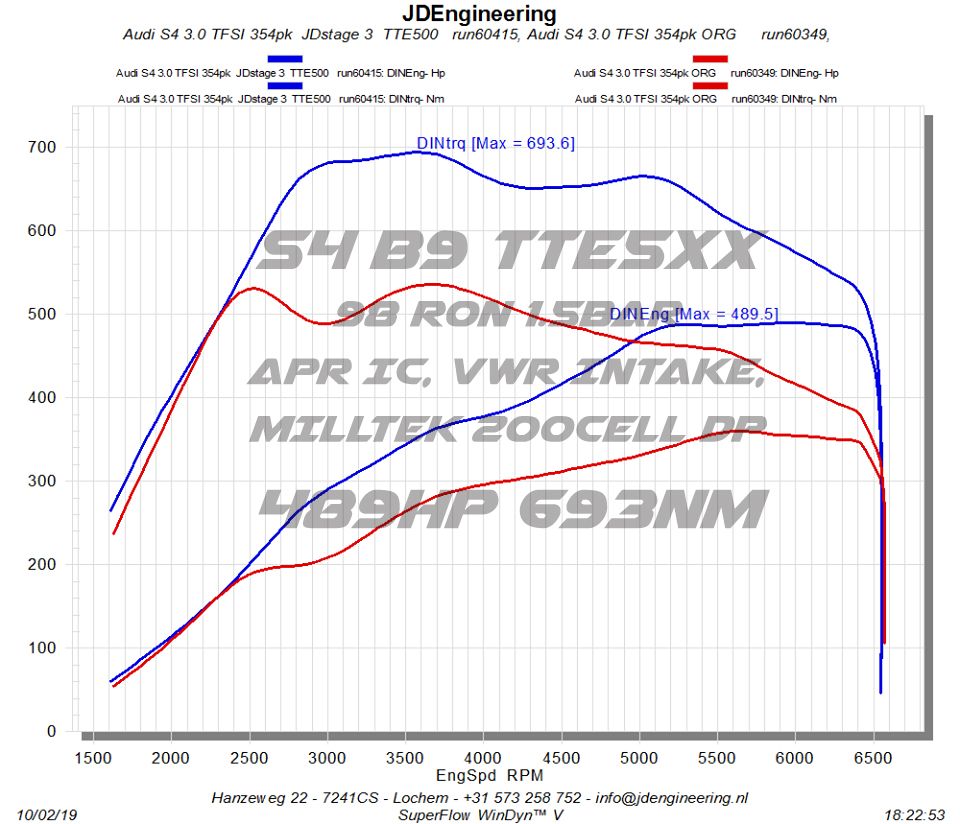 Important Upgrade Turbocharger Information - Sending Your Turbocharger
After you have ordered the upgrade from the online store by selecting 'Upgrade Your Turbocharger" option in the drop down box on the product page please download the 'Upgrade Turbocharger Form' at the bottom of the product page. Visit this Link
If sending turbocharger/s for an upgrade please ensure you print, read and complete this FORM. Place form inside the package with turbocharger/s.
Related Items
Available sizes

Square Actuator ,

Rounded Actuator

Available sizes

TTE600 Not Ported ,

TTE600 Exhaust Housing Ported