TTE300 1.8T UPGRADE TURBOCHARGER
£1,623.96
€1,880.71
$1,986.10
inc. VAT
Custom shipping prices available upon request.
20% UK VAT is removed at checkout for all EU & Rest of World countries once destination country is selected.
Delivery Information
Description
VAG 1.8T TTE300 UPGRADE TURBOCHARGER
Introducing our TTE300 performance turbocharger for the 1.8T. Offering 340PS in testing by partners with correct hardware & software on 98ron, Plug & Play Upgrade with fantastic response and OEM reliability. OEM+

Engineered & Enhanced
TTE300 start life from a brand new Genuine BorgWarner K04 turbocharger, we then dismantle and set about upgrading as Turbo Engineers.
To produce a TTE300 K04 upgrade turbocharger we use a much larger 2280 compressor wheel, chosen because it is highly efficient and light in weight at 36grams for fast response. This compressor also features BorgWarner Extended tip technology giving a compressor map that's very wide, creating an extremely high flow for comparative size. We CNC Re-Profile the compressor cover in-house to an optimized tight tolerance and finish to ensure maximum compressor efficiency is given.

The intake to the compressor wheel is CNC milled/ported and hand polished to smooth the transition from the intake pipework to the larger compressor to lower turbulence and maximize velocity. The boost discharge outlet is also ported to again smooth the transition to pipework to reduce turbulence.

We CNC re-profile the exhaust turbine housing to optimized profile and gap to take a larger K04 turbine and shaft we use on this stage, this turbine is a Genuine BorgWarner item. We also give the turbine special curved clip of a specific amount. The clipping is a TTE grinding process to the turbine blade tips, curved to alleviate stress from the process. Clipping reduces blade area, increasing gas flow and so reducing back pressure and lowering exhaust gas temperatures, allowing safer higher boost level's. This process also gives a secondary advantage of removing some material, lightening the turbine thus reducing rotational mass, improving moment of inertia.

Special profile 360 deg high-performance BorgWarner motorsport journal bearing is fitted, to remain durable at higher loads with no loss in transient response. The actuator used is uprated sprung Genuine BorgWarner unit, fitted with our reinforced stainless steel clamps and hardware for trouble-free operation. This also can also be modified and set to customer needs and specifications if required.
Equilibrium

Precisely balancing our turbochargers is a key critical factor to become a TTE upgrade unit as longevity and performance are paramount. Good balance improves acoustics also. Subsequent great care is taken with all TTE turbochargers to achieving our balance standards. Firstly parts are balanced at slow speeds up to 2800RPM in multiple planes using our single parts machine, then components are assembled and then the CHRA are dynamically balanced, but this time depending on application at up to 250,000 RPM in multiple planes using our in house VSR machine to acquire the ultimate equilibrium, to a standard far higher than OEM. Each turbocharger is supplied with serial numbered balance test result document.

Product Highlights:
Original BorgWarner K04-023 turbocharger as

base

part

BorgWarner Billet Milled compressor 6+6

BorgWarner Larger High-Flow Clipped Turbine

BorgWarner actuator TTE upgraded

Plug and Play installation with bigger turbo intake

Proven TheTurboEngineers quality

330 PS Proven 99RON

Single parts finely balanced then components assembled and core high-speed VSR balanced

Supplied with a balance test result document

Made in Germany
Please check out our TTE HEAT SHIELD ISOLATION ADD-ON option that's available.
AUDI S3 8L
Shell 99 ron 331HP 332 FT LBS (335PS 450NM)Power/Torque Capped.
R-TECH Remarked on how fast this turbo wanted to spool and area volume of power it gives, maybe best hybrid yet seen!
Great results, looking at moderate boost pressure and fuel used.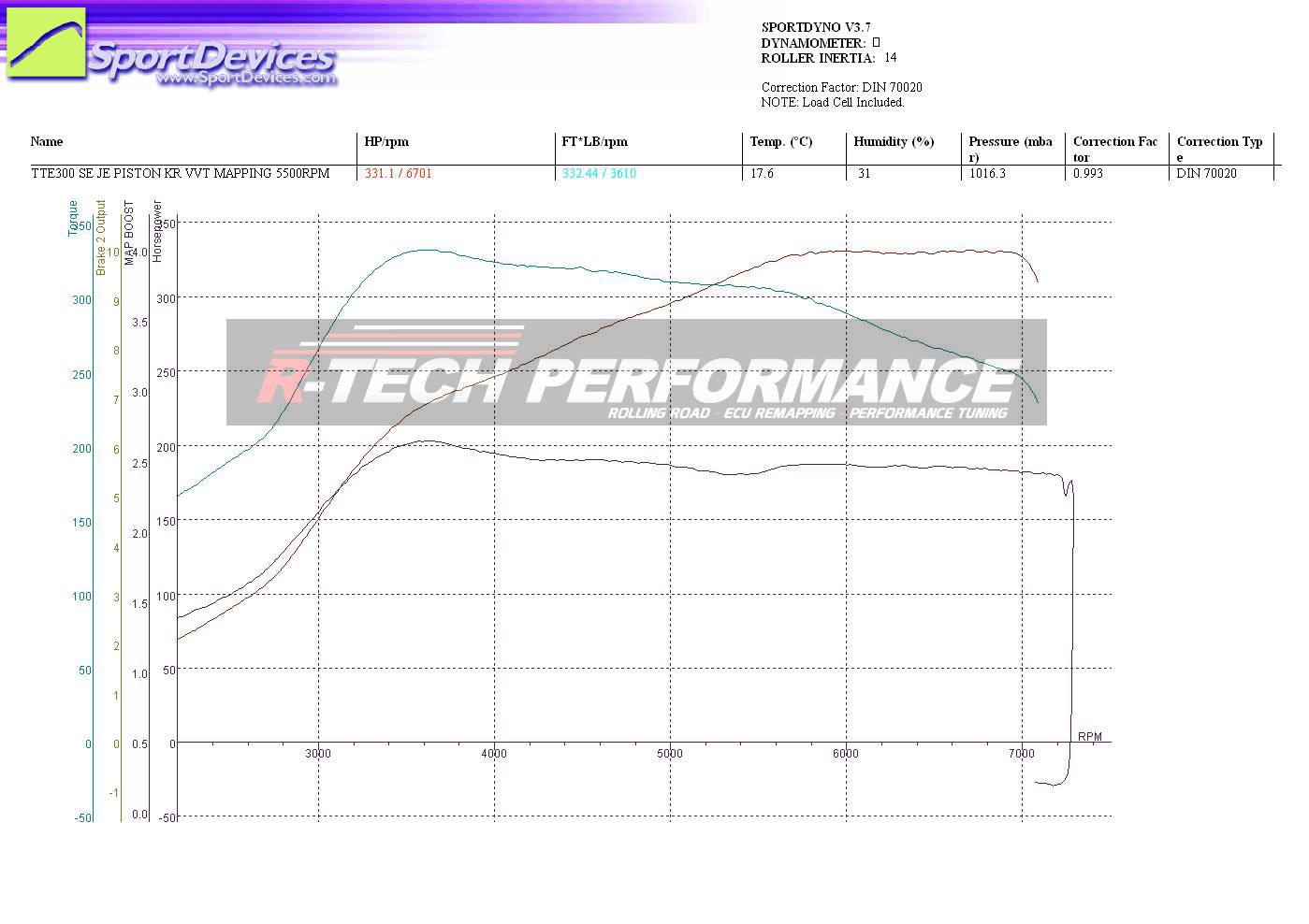 PLEASE CLICK THIS LINK FOR DYNOS & INFO
Important Upgrade Turbocharger Information - Sending Your Turbocharger
After you have ordered the upgrade from the online store by selecting 'Upgrade Your Turbocharger" option in the drop down box on the product page please download the 'Upgrade Turbocharger Form' at the bottom of the product page. Visit this Link
If sending turbocharger/s for an upgrade please ensure you print, read and complete this FORM. Place form inside the package with turbocharger/s.
Related Items
Available sizes

Square Actuator ,

Rounded Actuator

Available sizes

New TTE420 Unit ,

Upgrade existing unit to TTE420

Available sizes

TTE550 Not Ported ,

TTE550 Exhaust Housing Ported